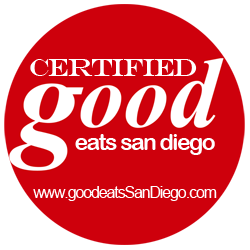 FEATURED RESTAURANT
BY MIKE PUCKETT
Join the conversation on our FB Group Page: Good Eats San Diego
So you voted and we heard loud and clear. We are in the process of building the feature for you now. Take a look back soon and check out the review with high resolution photography. Enjoy!
Below is from their website…
Great food, refreshing drinks, and a casual atmosphere in a fantastic location means a clean plate and a satisfied customer every time. All this and more are what you can expect when you visit Fault Line Bar & Grill. At our American restaurant/bar and grill in San Diego, CA, there's no better place to relax with family and friends while enjoying good food and great drinks. Whether you're in the mood for a mouthwatering handcrafted burger or some drinks to make for a relaxing evening, you've come to the right place.
We are located in an up-and-coming part of town on the ground floor of a historic high rise, right across the street from a public park where activities abound. You can chill while watching the action from our spacious outdoor patio with craft beer and, or go for a more intimate spot inside with cocktails and dinner. In addition to our lineup of great burgers, and other delectable goodies, we feature more than 20 varieties of craft beer on tap to quench your thirst. The perfect ending of a nice dinner for two would be a selection from our list of fine wines. Or if you have the kiddos along, you can share a round of our crafted milk shakes and old-fashioned malts. Be sure to try our special spiked shakes with a taste all their own, and stay for the daily Happy Hour specials. Whatever the occasion is, we aim to please.
For more information on our menu and daily specials, call us at (619) 501-7975 today and rediscover the craft of cleaning your plate.
Good Eats San Diego Recommends…
Appetizers
Wings
Dry Rub, Honey Chipotle and Buffalo
Fried Pickles
Pickles fried until golden brown
Both paired with: Space Dust IPA
American Double Imperial IPA, Elysian Brewing Company
Bright and galactic Milky Way hue. The hopping is pure starglow energy, with Chinook to bitter and late and dry additions of Citra and Amarillo
Fault Line Salad w/ Chicken
Fresh greens, tomato, red onion, garbanzo beans, Kalamata olive, feta & house made croutons.
Paired with: Martini
Bombay Sapphire Gin and vermouth, and garnished with an olive
Shrimp Cocktail
Gumbo shrimp served with cocktail sauce
Paired with: Complicated Chardonnay
Chardonnay, Trinchero Family Estates
Ripe peach, crisp apple, lemon curd, warm spices and toasty oak on the nose are accentuated by stone fruit and vanilla on the palate. Balanced acidity is complimented by a creamy finish laced with spiced pear
Entrees
Grilled Cheese & Tomato
Topped with lettuce, tomato & onion
The Faultline w/ double cheese
Two ½ pound patties topped with lettuce, tomato & onion (fresh or grilled onions)
Both paired with: Tricerahops
Double IPA, Ninkasi Brewing Company
An earthy and floral hop profile define this Double IPA. Its bigger body and higher alcohol percentage balance the large volume of hops to create a beer that is flavorful and drinkable
Grilled-Chicken Sandwich
Topped with lettuce, tomato & onion
Black Bean Burger
Topped with lettuce, tomato & onion (fresh or grilled onions)
Both paired with: San Diego Pale Ale .394
Amarican Pale Ale, AleSmith
Hop flavor and aroma, with a subdued bitterness and a malty sweet finish
Desserts
Strawberry Dream
Vanilla ice cream with strawberry vodka, strawberry drizzle and topped with fresh strawberry.
Ecstacy
Vanilla ice cream with Chambord Liqueur, fresh raspberries, and chocolate drizzle
PHOTOGRAPHY: MIKE PUCKETT
Good Eats San Diego Facebook Group