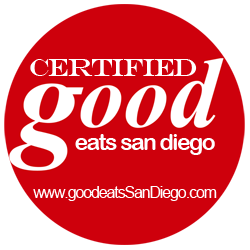 FEATURED RESTAURANT
BY MIKE PUCKETT
Join the conversation on our FB Group Page: Good Eats San Diego
So you voted and we heard loud and clear. We are in the process of building the feature for you now. Take a look back soon and check out the review with high resolution photography. Enjoy!
Below is from their website…
Located in downtown San Diego, New York West Pizza offers a diverse menu consisting of hand tossed New York style pizzas, pastas, steaks, seafood, fine wines and over 20 beers on tap. We take great pride in what we do and promise to provide our guests with the highest quality food, drinks and service. We hope to share some tasty eats with you soon.
New York West Pizza started with the idea of giving people the experience of great food, made with simple ingredients. From all of the house made sauces and dressings, to the daily made dough and mozzarella. Our belief has always been to give our customers the best possible cuisine, beginning with our pizzas, to our pastas and entrees, to subs, salads and appetizers.
New York West is proud to offer hand tossed pizzas. As the name implies, hand-tossed pizza dough is tossed in the air and caught by hand, or more specifically, by the backs of the chef's fists to avoid tearing. The tossing is repeated until the dough is the correct size and thickness. This method takes practice but produces a thin crust that's strong enough to hold the toppings. When the dough is done, it's topped with a thin layer of sauce and left to rest and rise for two to three hours before adding the toppings.
Good Eats San Diego Recommends…
Appetizers
Onion Rings
Beer Battered and Stuffed with Thin Shaved Steak, Peppers, Onions and a House Cheese Blend
Paired with: Manhattan
Angostura bitters, whisky, sweet red vermouth
Lobster Deviled Eggs – fried
Butter Poached Lobster, Herb Crust and Red Pepper Aioli
Paired with: Lavender French
Gin, champagne, lavender syrup, squeeze of lemon
New York Wings
Mama Mia (Habanero, Serrano, Garlic)
Paired with: Margarita
Tequila, lime and triple sec
Not Your Mama's Meatball
Special Blend of Beef and Pork Belly, Stone Fired, Marinara, Parmesan
Antipasto
Romaine, Parmesan, Salami, Mortadella, Peperoncino, Black Olives, Tomato, Garbanzo
Both paired with: Delicious IPA
India Pale Ale, Stone Brewing Company
Intensely citrusy, beautifully bitter beer with a magnificent lemon candy-like flavor that's balanced by hop spice
Entrees
Margherita Pizza
Fresh Buffalo Mozzarella, Roasted Tomatoes, Garlic, Basil
Empire Pizza
Sausage, Pepperoni, Bacon, Ham, Meatball, Provolone, Parmesan
Both paired with: Paired with: 805
Blonde Ale, Firestone Walker Brewing Co.
Subtle malt sweetness is balanced by a touch of hops creating a versatile beer with a clean finish
Seafood Lingini
Locally sourced seafood in a white wine reduction sauce
Fish and Chips
Locally sourced fish of the day with fries with a cajun-style tartar sauce and slaw
Both paired with: Carmen Chardonnay
Chardonnay, Carmen's vineyards
Delightful nose dominated by peaches, almonds, soft pastry cream, and apple crumble
Filet Mignon
8 oz. Tenderloin Delmonico or Peppercorn Demi-glace
Paired with: Carmen Cabernet Sauvignon
Cabernet Sauvignon, Carmen's vineyards
A rich, well-spiced red, with luscious flavors of tar, licorice and dark plum, supported by ample acidity and firm tannins
PHOTOGRAPHY: MIKE PUCKETT
Good Eats San Diego Facebook Group