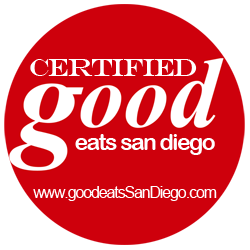 FEATURED RESTAURANT
BY MIKE PUCKETT
Join the conversation on our FB Group Page: Good Eats San Diego
So you voted and we heard loud and clear. We are in the process of building the feature for you now. Take a look back soon and check out the review with high resolution photography. Enjoy!
Below is from their website…
You don't have to play golf to enjoy The Crossings at Carlsbad. We are more than just a golf course, come visit the Canyons Restaurant, a full-service restaurant and bar located inside the beautiful clubhouse. Open 7 days a week for breakfast, lunch and dinner experience personalized service, fantastic cuisine and breathtaking views either in the main dining room or our outdoor patio. This magnificent setting is available to be booked in the evenings for private events of all types and sizes from large weddings to cozy private events.
The Crossings at Carlsbad clubhouse resides at over 28,000 sq. ft. and provides spectacular views of the Pacific Ocean and Carlsbad unmatched in the Northern San Diego County area. As seen from Palomar Airport Road, the castle-like clubhouse was designed by Douglas Fredrikson.
You are invited to gather with family and friends while tasting the local seaside cuisine inside the Canyons restaurant.  Sample a beer at the bar while watching a game on our big screen televisions, or simply enjoy a romantic setting with a glass of wine out on the terrace or our Player's Lounge Patio.
Good Eats San Diego Recommends…
Appetizers
Beef Sliders Three Ways
Crossings Burger, Ranchero Burger and Smokehouse Burger
Paired with: Red Trolley Ale
Irish Red Ale, Karl Strauss Brewing Company
Medium-bodied beer with flavors of toffee, hints of dried raisins and currants aged for 6 months in Pinot Noir barrels that contribute a slight tannic, sweet wine-like finish
Street Tacos
Carne Asada, Carnitas, Blackened Shrimp, Sauteed Salmon
Paired with: 805
Blonde Ale, Firestone Walker Brewing Co.
Subtle malt sweetness is balanced by a touch of hops creating a versatile beer with a clean finish
Jumbo Hot Wings
12 wings, sweet n spicy sauce, blue cheese dressing
Paired with: Aurora Hoppyalis IPA
American IPA, Karl Strauss Brewing Company
Robust flavors and aromas of tropical fruit, pine, and tangerine linger through a dry, crisp finish
Entrees
Ahi Salad
Sliced ahi blackened & seared | arugula, toasted almonds, baby heirloom tomatoes, radishes, carrot ribbons, wonton strips, pepita-lime vinaigrette
Fennel Salmon
Grilled salmon, bed of quinoa, smoked bacon, baby kale, shaved fennel, pickled red onions, finished with an herb olive oil
Both paired with: Canyons Private Label Chardonnay
Chardonnay, Canyons Private Label
Blend of rich fruit and oak flavors balanced by a note of crisp acidity
The Crossing Club Sandwich
Thinly sliced boars head turkey, boars head bacon, brie cheese, avocado spread, chicory frisee
Crossings Burger
8oz ground chuck & short rib patty, melted white cheddar, bacon tomatillo jam, butter leaf lettuce, pickled red onion, heirloom tomatoes
Both paired with: Canyons Private Label Melot
Melot, Canyons Private Label
Distinct notes of spice and berries that add to the overall flavor and complexity
Desserts
Trio of Desserts
Triple Layer Chocolate Mousse Cake, Classic NY Style Cheesecake, Brownie a la mode (served with bacon)
PHOTOGRAPHY: MIKE PUCKETT
Good Eats San Diego Facebook Group