Dirty Birds Liberty Station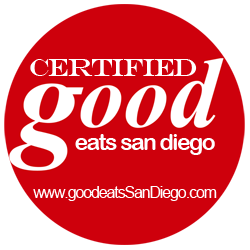 FEATURED RESTAURANT
Join the conversation on our FB Group Page: Good Eats San Diego
On this assignment, I had the convenience of being able to review and sample from one of my favorite sports bars. In addition, this new location is inside Liberty Station and is about 1/4 mile from my house! I literally walked from my door to theirs in less than 10 minutes—and most of that was spent waiting at a traffic light.
I have been to the PB location store many times before, but since this location opened, I have been shifting to make this my primary spot for game day wings, sandwiches, salads, and burgers. They also have great drinks out back on the patio during our many sunny San Diego summer days!
Let me walk you through my plan of attack on this visit during a casual Saturday afternoon where I took in a ball game at good old PETCO park. I had my choice of 25+ LED/HD TV's of all sizes to watch from. So, it's true that there is not a bad seat in the house at Dirty Birds.
Now since the apps and entrees often function as the main meal, I will combine the two in my review of all the goodness I sampled. Here we go!
I started with my favorite salad on the menu, The Baja Fiesta Salad. A monster of a salad that eats like a meal—so bring your appetite! A large perfectly crisp tortilla shell encompasses a pile of fresh romaine lettuce, red onion, chopped tomato, shredded cheddar cheese, black beans, and sliced avocado with a house salad dressing. You can add your choice of meat for $4 as well.
I got my greens in for the day! But now for some finger licking wings! Its game day and I need my wings! My personal favorite dry rub wings are the Dirty Jerk Wings! They do them better than anyone else I know! A slightly spicy, but sweet and robust flavor punch of Jamaican jerk seasoning over plump meaty wings and drumettes. Next, my favorite wet sauce wings—none other than the Teriyaki and Sesame Wings! A killer sauce that's just the right balance of sweetness, tartness and soy all combine to make these wings truly wicked good! Dirty Birds is king for making sure you always get the meatiest wings anyone is serving up!
Now with my wing fix knocked out for days, I move to the burgers and sandwich realm and pick out two of my regulars as they never go out of style and always deliver! First is the Blackened Chicken Club. Here you have simplicity at its best between two buns. A blackened Cajun chicken breast, jalapeno bacon, melted pepper jack, lettuce, tomato, onion, and chipotle mayo. Darn good eats! Next is the rather healthy but still delicious Turkey Burger. A lean ground turkey patty made to order. I went basic with some LTO and mustard on a toasted bun and loved every single bite!
Finally, is game days ultimate sharable food item—the pizzas! Just the right size for one person or great for getting multiples and sharing with the group. I opted to get two particular pies I hear amazing things about. The Tropicuban Pie with mozzarella cheese, grilled onion, sliced pickle, diced pineapple, pulled pork, ham, sweet n spicy sauce, flaming honey mustard sauce, and chopped parsley. It's like having a taste of Cuba on a pie pan! The next pizza is the Dirty Bird Chicken Pizza. They keep it simple and that's because that's all it takes to hit a home run with this one! Topped with onion, bacon, mozzarella cheese, cheddar cheese, and ranch dressing. Winners for sure!
Overall, Dirty Birds is a consistent and high scoring venue for sports fans of all kinds! Killer wings with more sauces and rub options than you could ever sample in one visit. The ideal place to come for a weekday lunch away from work around Point Loma or Liberty Station or a prime pick for the big weeknight game with the group. Or best yet, a weekend chill-out spot to take a seat at the outdoor bar and watch the game, people watch, or catch views of the neighboring 9-hole golf course. Whatever day, whatever time, whatever reason—Dirty Birds in Point Loma's Liberty Station is always a wise choice for food, drinks, service, and good times.
Good Eats San Diego Recommends…
Salads
Baja Fiesta salad with added chicken
Chopped romaine lettuce, diced tomatoes, red onions, black beans, avocado, shredded cheese inside a tortilla shell with house-made salsa on the side
Wings
Teriyaki Wings
House teriyaki topped with sesame seeds
Dirty Jerk Wings
House made jerk rub
Burgers
Turkey Burger
Lean turkey patty made to order with toppings as selected on a toasted bun
Sandwiches 
Blackened Chicken Club Sandwich
Blackened cajun chicken breast, jalapeño bacon, melted pepper jack cheese, lettuce, tomato, chipotle mayonnaise on a warm bun
Pizzas
Dirty Bird Chicken Pizza
Onion, bacon, mozzarella cheese, cheddar cheese and ranch dressing
Tropicuban Pizza- Mozzarella cheese, grilled onion, sliced pickle, diced pineapple, pulled pork, Ham, sweet n' spicy sauce, flaming honey mustard sauce and chopped parsley
Dirty Birds Liberty Station
Good Eats San Diego Facebook Group