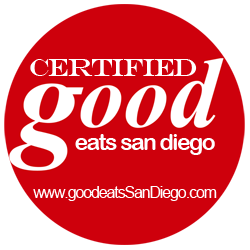 FEATURED RESTAURANT
BY MIKE PUCKETT
Join the conversation on our FB Group Page: Good Eats San Diego
So you voted and we heard loud and clear. We are in the process of building the feature for you now. Take a look back soon and check out the review with high resolution photography. Enjoy!
Below is from their website…
Inspired by the natural beauty and surf culture of the Southern California Coast, DRIFT eat + drink offers a variety of dynamic indoor and outdoor seating arrangements perfect for groups of all sizes, intimate drinks for two or late night drinks with friends. Drift features a comfortable patio with lounge seating and inviting fire bowls. Guests will discover a dining experience catering to today's trend of clean and healthy eating. The Menu features absolutely no fried foods and has a varied selection of gluten-free, vegetarian and vegan options. YOU can also indulge yourself with seasonally inspired comfort foods or a decadent dessert. During your stay with us we hope you will stop in to enjoy a delicious meal, seasonal craft cocktails or local craft beer in a casual comfortable atmosphere, perfect for any time of day.
Good Eats San Diego Recommends…
Cocktails
Strawberry Jalapeno Margarita
Patron Silver, Cointreau, lime juice, agave nectar, fresh strawberries, jalapeno
Blackberry Moscow Mule
Ketel One vodka, fresh blackberries, lime juice, Gosling's ginger beer
Cucumber Gin Cooler
Hendrick's gin, fresh cucumber, fresh lime juice, agave nectar, tonic
Appetizers
Drift Nachos
Smoked mozzarella, bleu cheese, oven dried tomatoes, pickled red onion, thick cut potato chips, horseradish cream, chives, braised all natural short ribs
Paired with: Blood Orange IPA
Imperial Pale Ale, Latitude 33 Brewing Company
Citrusy, tropical bitterness provides a perfect balance and a smooth finish
Cali Meat + Cheese
Fra'mani meats + California creameries, seasonal fruit jam, almonds, artisan bread
Paired with: Rombauer Cabernet
Cabernet Sauvignon,Rombauer Vineyards
Aromas of cherries, blackberries, plums, rosemary and sweet tobacco. The wine is medium- to full-bodied, brimming with flavors of black cherries, blueberries and plums, along with notes of bramble, violets and vanilla. Supple tannins carry through to a lingering finish
Salad
Baby Wedge with Steak
All natural flat iron steak, Applewood smoked bacon, shredded egg, heirloom baby tomato, Point Reyes blue cheese, house made ranch dressing
Mains
SD Stout Braised Short Ribs
All natural braised beef short ribs, stout + veal reduction
Paired with: Rombauer Cabernet
Cabernet Sauvignon,Rombauer Vineyards
Aromas of cherries, blackberries, plums, rosemary and sweet tobacco. The wine is medium- to full-bodied, brimming with flavors of black cherries, blueberries and plums, along with notes of bramble, violets and vanilla. Supple tannins carry through to a lingering finish
Flatbread
Smoked Salmon Flatbread
Santa Barbara Smokehouse salmon, capers,red onions, dill cream
Paired with: Canvas Pinot Grigio
Pinot Grigio, Canvas Wines
Straw yellow in hue, crisp aromas of lemon with a waft of lavender, flavors of limoncello with a dollop of cream and a slight spicy nuance. Zesty with decent acidity
Baja Chicken
Spicy grilled chicken, monterey jack, charred corn, black beans, pico de gallo, Pomodoro sauce, cilantro crema
Paired with: Duckhorn Sauvignon Blanc
Sauvignon Blanc, Duckhorn Vineyards
Aromas of passion fruit, papaya, ginger and star fruit leap from the glass, along with layers of grapefruit and melon. On the palate, a lovely Sémillon-driven silkiness provides delicate weight to this wine, while crisp, refreshing acidity and vibrant citrus flavors draw the wine to a lingering finish with notes of Meyer lemon and Kaffir lime
Desserts in a Glass
Drift-A-Misu
Lady fingers soaked in espresso & Ballast Point Victory at Sea Vanilla Porter, mascarpone mousse
Chocolate
Chocolate pot de crème, milk chocolate, mousse, ganache, whipped, cream, smoked salt brownie brittle
Lemon Blueberry
Lemon curd with blueberry puree, whipped cream, brown butter cookie crumble
PHOTOGRAPHY: MIKE PUCKETT
Good Eats San Diego Facebook Group