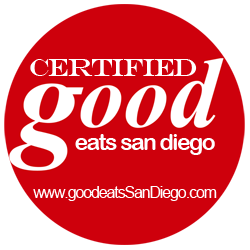 FEATURED RESTAURANT
BY MIKE PUCKETT
Join the conversation on our FB Group Page: Good Eats San Diego
So you voted and we heard loud and clear. We are in the process of building the feature for you now. Take a look back soon and check out the review with high resolution photography. Enjoy!
Below is from their website…
Our founders, Joaquin and Dolores ("Lolita") Farfan, have over five decades' experience in the Mexican food business, and all their children work for Lolita's. Their culinary expertise and love for community is vital to all we do. We seek to be visible and active members of the communities in which we do business. Our customers are our guests, and our employees are our team.
When the Farfans started Lolita's, they sought to support their growing family and serve excellent Mexican food. The top sellers include carne asada burritos, bean & cheese burritos, and rolled tacos with guacamole. Key to their success—then and now—are their one-of-a-kind spices and sauces.
Good Eats San Diego Recommends…
Drinks
San Diego Pale Ale .394
Amarican Pale Ale, AleSmith
Hop flavor and aroma, with a subdued bitterness and a malty sweet finish
Modelo Especial
American Adjunct Lager, Grupo Modelo S.A. de C.V.
Rich, full-flavored pilsner beer brewed with premium two-row barley malt that gives it a slightly sweet, well-balanced taste with a light hops character and crisp finish
Appetizers
Chips and Salsa
Cut from fresh corn tortillas and fried to an ideal crunch served with house made salsa
Chile Relleno
Skillfully crafted, jack cheese-filled California chile topped with house-made enchilada sauce, lettuce, cheddar and cotija cheese
Tsunami Chips
Carne asada, grilled shrimp, guacamole, sour cream, cheddar and cotija cheese
Quesadillas
Carne Asada Quesadilla
Marinated carne asada, cheddar cheese with guacamole and salsa Mexicana
Tacos
Fish
Grilled Basa fillet, cabbage, salsa Mexicana, and Lolita's Salsa Blanca on a crunchy tortilla
Carne Asada
Choice Black Angus beef, guacamole, and salsa Mexicana on a soft tortilla
Super Rolled Tacos
Beef tacos with lettuce, guacamole, sour cream, salsa Mexicana, cheddar and cotija cheese
Carne Asada, egg & cheese
Choice Black Angus beef, egg and cheddar cheese
Burritos
Tsunami Burrito
Carne asada from Choice Black Angus beef, grilled shrimp, cabbage, guacamole, jack cheese, and salsa Mexicana
PHOTOGRAPHY: MIKE PUCKETT
Good Eats San Diego Facebook Group