Pardon My French Bar & Kitchen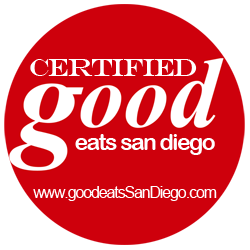 FEATURED RESTAURANT
BY MIKE PUCKETT
Join the conversation on our FB Group Page: Good Eats San Diego
So you voted and we heard loud and clear. We are in the process of building the feature for you now. Take a look back soon and check out the review with high resolution photography. Enjoy!
Below is from their website…
Pardon My French brings French-fusion cuisine and a meticulously crafted boutique wine list to Park Blvd. From the upbeat tunes reminiscent of Hotel Costes in Paris to the vibrant art collection and rich variety of entertainment, Pardon My French Bar and Kitchen, is set to be bustling with locals and Europhiles alike that enjoy, good food and a fabulous time.
Husband and Wife owners, Eric and Lindsey's most recent endeavor was the popular Pardon My French Art gatherings that brought art collectors and admirers to various hotspots in town where, carefully curated art pieces were enjoyed while networking with like-minded folks. It was innovative, fun and a great way to enjoy art while meeting new people and reconnecting with old acquaintances.
Pardon My French Bar & Kitchen is set to bring a similar exciting ambiance to life. The large outdoor space, kept warm with a fireplace, also allows for a fun Sunday brunch, complete with a bottomless mimosa and even a freshly cooked plate for your pooch (yes, dog friendly).
Good Eats San Diego Recommends…
Cocktails
Pardon My French Martini
Stoli Vodka, Grand Marnier, Campari, lemon, simple syrup
Vodka Martini
Stoli Vodka, vermouth, olive
Hors D'Oeuvres
Charcuterie & Fromage
A house selection of imported cured meats and cheeses with seasonal accompaniments, served with toasted baguette
Escargots
Garlic & parsley butter, baguette
Both paired with: Jaboulet "Parallele 45" Cotes du Rhone
Blend – Rhone, Paul Jaboulet Aine
Juicy red and black fruits, peppery herbs and earth in a medium-bodied, soft, forward, gulpable style
Foie Gras
Grilled peach, brioche, port jus, walnuts
Tarte Flambee (Flammekueche)
French ham, crème fraiche, caramelized onions, emmental cheese, bacon, thyme on a crispy flatbread
Both paired with: Chartron et Trebuchet Puligny-Montrachet
Chardonnay, Chartron et Trebuchet
Notes of vanilla, smoke and hints of sweet spices such as clove and cinnamon
Entrees
Pan Roasted Fillet of Salmon
Roasted fennel, haricot verts, sauce vierge
Mussels Marinieres
Shallots, parsley, chives, white wine, served with a garlic baguette
Both paired with: Muscadet Cotes de Grand Lieu Sur Lie
Melon de Bourgogne, Domaine des Herbauges
Apple and citrus flavors, with underlying mineral notes
Steak Frites
8oz prime flat iron steak, watercress salad, homemade truffle fries, peppercorn sauce
Truffle Cheese Ravioli
In mushroom sauce, aged parmesan
Both paired with: Chateau Marojallia Clos Margalaine
Bordeaux Blend, Château Marojallia
Very dark hue with purple-blue tints. The nose is concentrated and blends dark fruit with delicately toasted oak. The palate is concentrated, very ripe, verging on jammy. An exuberant style with emphasis on power
Desserts
Cremeux Au Chocolat
Homemade honeycomb, whiskey cream
Tarte Tatin
Calvados ice cream, smoked sea salt caramel
PHOTOGRAPHY: MIKE PUCKETT
Pardon My French Bar & Kitchen
Good Eats San Diego Facebook Group