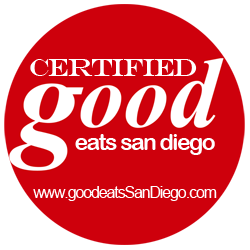 FEATURED RESTAURANT
BY MIKE PUCKETT
Join the conversation on our FB Group Page: Good Eats San Diego
So you voted and we heard loud and clear. We are in the process of building the feature for you now. Take a look back soon and check out the review with high resolution photography. Enjoy!
Below is from their website…
Discover the perfect blend of innovative cuisine, exquisite locale and impeccable service at our signature restaurant, Red Marlin. Overlooking scenic Mission Bay Marina, our dynamic waterfront San Diego restaurant boasts a fresh, sophisticated menu by Executive Chef Vincent Savignano, served in one of the area's most sought-after destinations. With a modern yet warm design created to complement the panoramic views, guests of our impressive coastal restaurant will delight in both beautiful scenes and beautiful food.
Good Eats San Diego Recommends…
Appetizers
Double Jumbo Lump Blue Crab Cakes
Poblano Remoulade, Micro Greens
Burrata Mozzarella
Heirloom Tomatoes, Basil, Balsamic "Caviar," Brioche Dust
San Diego Clam Chowder
Cilantro, Jalapeño, Bacon
Sautéed Shrimp
Pomplano Chorizo, Fennel, Cherry Tomato, White Wine, Butter Sauce, Crostini
All paired with: Masianco
Pinot Grigio/Verduzz, Masi Agricola
A fresh white wine, aromatic and fruity in style; the unmistakable result of combining Pinot Grigio delle Venezie with the Appassimento technique, Masi's speciality
Entrees
Surf & Turf
Scallops, Petit Filet Mignon, Baby Carrots, Mashed Potatoes, Blackberry Demi
Grilled Asparagus
Hazelnuts, EVOO
Carne Asada Hanger Steak
Avocado Puree, Cilantro Rice, Plantain Tostones,
Yukon Gold Mashed Potatoes
Both paired with: Paired with: Carmen Cabernet Sauvignon
Cabernet Sauvignon, Carmen's vineyards
A rich, well-spiced red, with luscious flavors of tar, licorice and dark plum, supported by ample acidity and firm tannins
Grilled Yellowtail
Summer Squash, Bagna Càuda, Beluga, Lentils, Anaheim Chile Romesco
Seared Maine Scallops
Tomato Chutney, Creamy Grits, Corn, Nage, Cilantro Pistou
Roasted Brussels Sprouts with Parmesan, Pancetta, Balsamic
Both paired with: Carmen Chardonnay
Chardonnay, Carmen's vineyards
Delightful nose dominated by peaches, almonds, soft pastry cream, and apple crumble
Desserts
Panna Cotta Cheesecake
Strawberry-Rhubarb compote and sorbet, graham cracker crumbs
Paired with: Siroco White Port
White Port, Fonseca Porto
Pale straw gold in color, the wine is lightly sweet with a vibrant acidity and round, velvety texture. White fruit aromas and flavors are offset by light oak notes
Butterscotch Chip Brownie
Dulce de Leche Ice Cream, chile-chocolate sauce
Paired with: Chocolate Martini
Chocolate liqueur, creme de cacao, vodka, half-and-half
PHOTOGRAPHY: MIKE PUCKETT
Good Eats San Diego Facebook Group