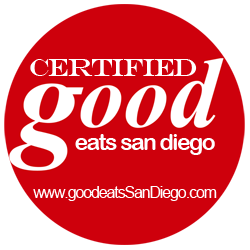 FEATURED RESTAURANT
BY MIKE PUCKETT
Join the conversation on our FB Group Page: Good Eats San Diego
So you voted and we heard loud and clear. We are in the process of building the feature for you now. Take a look back soon and check out the review with high resolution photography. Enjoy!
Below is from their website…
Owned and operated since 2009 by Executive Chef Hector Casanova, Casanova Fish Tacos is a multi award winning catering company focusing on the true Baja style cuisine. Casanova Fish Tacos success comes from our pride to serve San Diego's best fish tacos with passion, consistency and presentation. All of our salsas, batters, marinades, signature creams are original and created from scratch. Fresh ingredients are essential!
Good Eats San Diego Recommends…
Cocktails
Spicy Island girl
Hornitos Reposado infused with roasted pineapple and jalapeno, agave, lime, pineapple, Tajin rum
Irish Coffee
Modern Times Coffee, Half & Half, Slane Irish whiskey, Kahlua
Appetizers
Super Cheesy Bread
Hand kneaded cheesy goodness brushed with garlic and fresh cilantro served with zesty marinara
Box Sauce Wings
Secret recipe mixing hot, mustard & honey
Not Yo Mammas Meatballs
4 large homemade meatballs mixed with beef, pork and our Mama's special seasoning, smothered with mozzarella
All three paired with: Big Josh Golden Ale
Blonde Ale, Thorn St. Brewery
Light malt sweetness is present in the flavor. Bread, toast, biscuit and wheat flavors are common
Salads
The Greek
Chicken, chopped romaine topped with feta cheese, sun dried tomatoes, roasted red peppers, artichoke hearts, red onions, and green olives served with balsamic dressing
Sandwiches
Marley
Bistro buttermilk, pulled chicken, crispy bacon, chopped onions, fresh tomato, artisan pepper jack cheese
Paired with: 805
Blonde Ale, Firestone Walker Brewing Co.
Subtle malt sweetness is balanced by a touch of hops creating a versatile beer with a clean finish
Calzone
Vintage Charlie Calzone
Classic marinara, chopped garlic, mouthwatering sausage, chopped onion topped with house mozzarella
Pizzas
Pesto Punk Pizza
Basil pesto, house mozzarella, pulled chicken, sapulo ricotta, sliced tomatoes, artichoke hearts
Tony Soprano Pie
Red sauce, sliced meatballs, salami, banana peppers, roasted red peppers, topped with ricotta and mozzarella cheese
PB Hot Chick
What PB is known for…our take on a buffalo chicken pizza. Spicy buffalo sauce topped with red onions, tomatoes, chicken & ranch drizzle
Hot Chester Pizza
Ranch based garlic sauce topped with Hot Cheetos crumbles, chicken and heaping amounts of mozzarella cheese, then topped with whole Hot Cheetos
All four paired with: Blood Orange IPA
Imperial Pale Ale, Latitude 33 Brewing Company
Citrusy, tropical bitterness provides a perfect balance and a smooth finish
Desserts
Choco-lava Cake
Rich chocolate cake with a warm, luscious molten chocolate center & 2 generous scoops of vanilla ice cream
Ice Cream Cookie Sammie
Generous scoops of vanilla ice cream nestled in between 2 gourmet cookies
PHOTOGRAPHY: MIKE PUCKETT
Good Eats San Diego Facebook Group