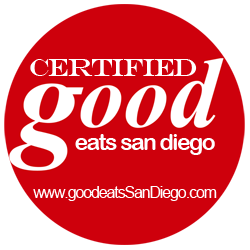 FEATURED RESTAURANT
BY MIKE PUCKETT
Join the conversation on our FB Group Page: Good Eats San Diego
So you voted and we heard loud and clear. We are in the process of building the feature for you now. Take a look back soon and check out the review with high resolution photography. Enjoy!
Below is from their website…
SOHO Gastropub is serving the Convoy neighborhood in San Diego, California the finest Thai/Pan-Asian food and craft drinks. Formerly known as Nolbu, SOHO Gastropub takes Asian fusion cuisine to a new level. From papaya salad to San Diego, California's original bulgogi fries, SOHO Gastropub has something to satisfy every palate. SOHO Gastropub boasts 20+ curated rotating craft beer taps, an extensive library of international whisk(e)ys, and a seasonally changing menu of craft cocktails. Located in the heart of the Convoy Asian restaurant neighborhood of San Diego, California, it's great for a quick business lunch, dinner with the family, or happy hour!
Good Eats San Diego Recommends…
Appetizers
Togarashi Calamari
Preserved lemon, kimchi remy, garlic chips
Shrimp Gyoza
Shrimp, chili oil, chili threads
Both paired with: Lavender Meadows
Cutwater Old Grove Gin, honey, Giffard Cassis Noir De Bourgogne, Scrappy's Lavender Bitter, lemon
Salad
Crab stack
Crab, pineapple, cucumber, tomato, arugula, avocado mousse
Paired with: Apple Jack
Buffalo Trace Bourbon, Laird's Apple Jack Brandy, Angostura Bitter, Apple Cinnamon Demerara
Mains
Banh Mi Sliders
Spicy aioli, pickled vegetables, jalapeno, cilantro
SOHO Fries
Fries, tots, braised short rib, bourbon blue cheese, spicy aioli
Tofu Steam Buns
Soy marinated, pickled vegetables, fresno chili
Oaxacan Drunken Noodles
Ground pork and beef, baby carrot spigarello, mole sauce, comichon corn
All four paired with: Blood Orange IPA
Imperial Pale Ale, Latitude 33 Brewing Company
Citrusy, tropical bitterness provides a perfect balance and a smooth finish
PHOTOGRAPHY: MIKE PUCKETT
Good Eats San Diego Facebook Group